Saddlery
>
English Saddlery Construction
English Saddlery Construction
Here's a look into an English Saddle Workshop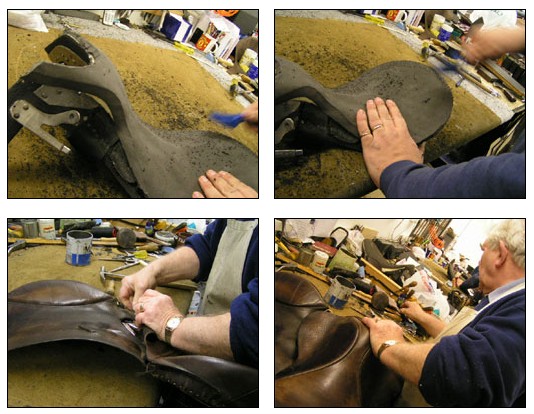 Saddle construction is an art and science, as it takes years of experience to ensure that the horse that is being fitted is getting the correct saddle for his/her conformation and muscle development, this is sometimes not the exact saddle the rider would want, however one of the benefits of custom saddlery is that the fitter can suggest and explain why one saddle is better than the other in shape, fit, and comfort for horse and rider.
New 21st Century construction methods put English saddle making as the cutting edge of innovation in adjustable saddles.
Notes on Leather: Leather is a unique product, it is a natural material made from animal hide. In their lives, animals may receive scratches and blemishes which are part of the hide, these do not compromise the product in any way, and they add character to the product. We avoid using leather with scars that may weaken it, and as our saddles are all handmade in the UK, the colors of the leather may vary at times as may the actual look of the product. You are buying a "one off" item that is manmade, not production line made, so each will be a little different. The manufacturing of saddles, can at times call for the leather to be shaped wet and this sometimes results in small amounts of wrinkling, this is part of the product and is not a fault.
Want to learn to become a saddler? The North American Saddlery School can teach you to do all this and more!